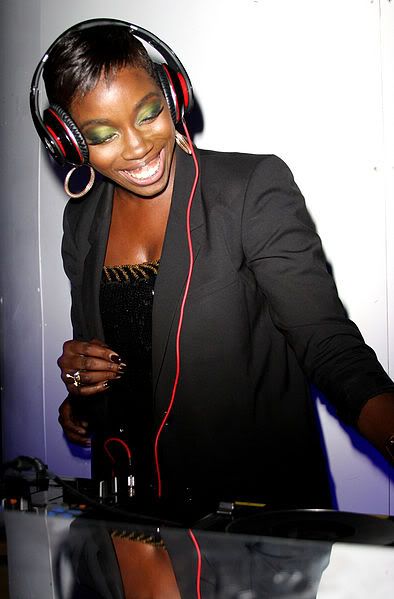 Estelle Swaray on the decks (Photo credit: Wikipedia)
Cricket Wireless is a popular wireless provider of smartphones in the United States. Besides offering an innovative smartphone platform, Cricket's hassle-free no contract and no activation fee deals are very attractive. While the phone features all the specifications you'd anticipate in a smartphone these days, there's so many reasons why people have come to like Cricket's Muve Music.
It wasn't long ago that Cricket unveiled Muve Music, its subscription music service for phone users. It wasn't long after that when Muve Music became America's second largest digital music subscription service, with over half a million users. The Muve Music library now features millions of artists. However, it's not just the library that entices users; it's the exclusive stuff that really sweetens the deal.
The Muve Exclusives
Muve Music regularly teams up with some of the biggest artists from around the world to produce exclusive content, tracks, and, the widely anticipated new Muve Music Compilation album. So far, their just-for-you collaborations have been impressive. Check out their track records below:
In January, Young Jeezy and Island Def Jam Music Group teamed with Muve to create the exclusive Muve Sessions album TM: 103, his latest album which features guests like Eminem, Jay-Z, Snoop Dogg, Lil Wayne, and Jill Scott.  
In March, Muve partnered with Grammy-winning Londoner Estelle to produce special commentary in anticipation of her newest album All of Me, available just for Muve users.
For the month of April, club king David Guetta treated Muve listeners to exclusive Muve Sessions tracks and detailed song commentary from his newest albums Nothing But the Beat and Nothing But The Beat Electronic. His track NBTB – Muve To The Beat, is a special gift to Muve users.
Headliners aren't the only big names at Muve; other First Artists have also included Chiddy Bang, MGK, Breathe Carolina, Future, and Diggy, all of whom have given Muve users inside peeks and early release access to tracks and commentary.
Muve's recent compilation album features artists from Mello Music Group, the renowned hip hop label that dishes out killer beats and sweet old-skool soul. Indie artists like Oddisee, Gensu Dean, yU and Apollo Brown provide both sound and in depth commentary, all exclusive to Muve users of course.
Club Cricket
Unfortunately, Muve's albums, tracks, and commentaries are just for Muve subscribers. If you don't want to miss out on upcoming artist collaborations and label compilations, you can check out Cricket Wireless's Muve Music and get your hands on your own sleek smartphone. With MP3 players becoming a past phase, Muve Music allows you to get the latest tunes now, right in your phone, with no cords and no syncing required. Now that's something to dance about.